Welcome to the 2022 Northern Ireland Investor Group Share picking challenge.
As a reminder these are the picks
Annesley: CMCX
Andrea: ADT
Barry: CLIQX
Bob: SAR
David: GDH
James: GMS
Jeremy: BOO
John: SLP
Neil: BKS
Robin: SYNT
See how they are doing below…
Last Updated 22/01/2022
Let me know if you get any dividends and I can add them in somehow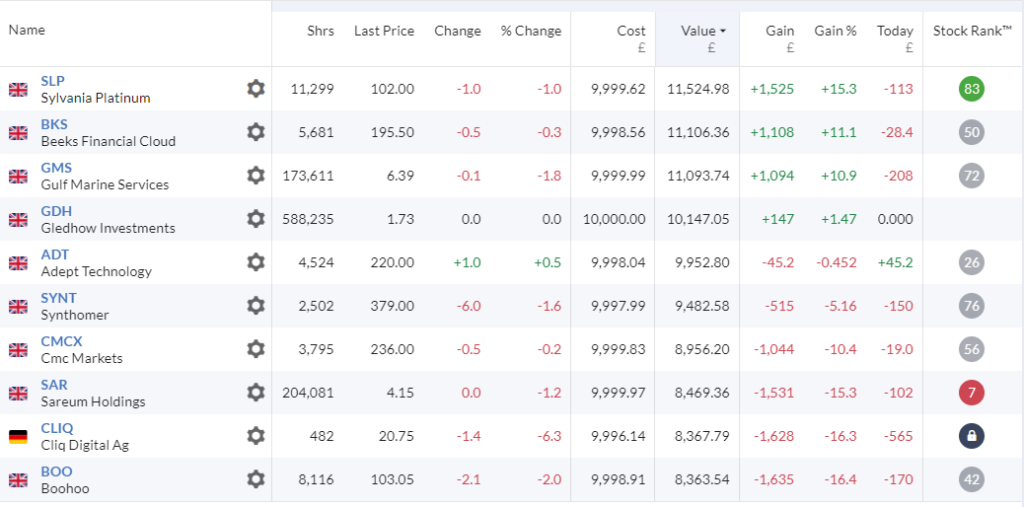 Stockopedia Stock Picking Challenge 2021
Click on any name to see their share picks and performance
Neil remains in the lead at the end of December and is the stand out winner of this years challenge with a strong group of picks… Quite the role reversal as Neil was in last place for most of last year! Well done Neil.
Stockopedia Stock Picking Challenge 2020
We have a winner!
For the 2020 share picking NI challenge it is Bob Beatty at the top of the bunch with a stonking 126.94% return! I bet he wishes that was the same as in his actual portfolio as do we all!
1st – Bob Beatty 127%
2nd – Barry Pitcher 70.37
3rd – Investor John 41.68%
Average or overall return as a group was 21.39% which is very good indeed! You can see from the colours that February and March were a little rough! but we all recovered nicely…
Feel free to comment below with your thoughts and see you next month!