This is a really quick update now that I have a few minutes to spare…
Lets start with my YTD which like many has started on a shaky footing at -6.83% so lots of room for improvement there!
Holdings as at 12/02/2022
In terms of my holdings they now look something like this… See also current holdings page in case you cant read those tickers below.
So I am holding fairly steady at 30 positions which is about right for me – don't get me wrong there are a few in there that should have been booted out by now and there is always a few contenders for new holdings.
I have found myself being fairly fussy about buying into new positions in the current market. There is so many unknowns as is always the case, but for now we have Russia – Ukraine tensions, inflation, rate hikes, reducing government stimulus and in general the market is in a fairly bad mood.
This makes me think twice about getting into some of the stocks on my watchlist – I had been watching BRK Brooks McDonald, JIM Jarvis Investment Management and POLR Polar capital for example which all potentially are affected by reducing AUM as investors become nervous… JIM may be a beneficiary of any rate hikes but for now I remain on the side-lines.
I will buy top ups and an odd new holding on any really bad market days – shares like BMY and SUS are worthy of top up after recent results but again best to buy on a bad market day than on the day of trading update unless I can get a buy on the market open before any increase. If I was a full time investor this would be easier because 8am coincides with our factory start time at which point my attention can be elsewhere.
I finally got my SUMO takeover money in at the end of January which now boosts my cash to over 10% of portfolio along with some other deposits. SUMO was an interesting one because the market held the price lower than the take over price, anticipating for many months that the deal would fall through. This meant that you could buy the share at 480p even after the takeover price of 513p was agreed. This would have been an easy 6% if you had the nerve or conviction that the deal would go ahead for sure. Anyway that was a nice 74.5% gain for the portfolio.
Now I need to find another home for these funds. Another gaming company would be of interest and I have been eyeing up KWS Keywords studios as a possibility. Could I make it a hat trick of Gaming company takeovers after Codemasters then SUMO? I can't see the likes of KWS being taken over though as they are a pretty big company.
ADVT my smallest holding has been a proper waste of time with a pretty much failed attempt at a takeover of M&c Saatchi. They are currently suspended.
Trades so far…
So far this year I have bought top ups in UPGS, FUTR and in ECK for various reasons. I have one new holding DBOX Digitalbox which I should have bought when I first identified and researched it. At that time DBOX was 7p and I ended up paying double that for my initial stake. They are a fast growing media company who specialise in Mobile media (as in media optimised for mobile phones). They have a proprietary platform called Graphene which allows them to optimise the media and get maximum return from their ad spaces. Recent trading has been strong and looks set to continue as they successfully execute their strategy.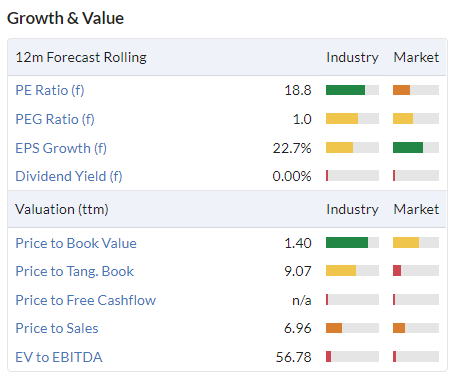 DBOX like many of my holdings have a strong insider shareholding. James Carter and James Douglas (CEO/COO) hold almost 20% between them.
I wont say any more for now but that will give you a sneak peak into another private investors portfolio and strategy in these torrid markets. Any questions just shout as I am only jotting down some key points here…
Thanks for reading!
Do you use Stockopedia?- I find it useful for my research as it saves me loads of time because I can quickly discard some stocks as unsuitable and dig further into others. Get a discount by clicking through below…