Welcome again…This is my Diary entry for April- we've all seen a bit of a recovery in the markets but still a long way off previous levels!
I'm writing this on the 8th of May 2020 – Each month I am getting later! It has been busy though with my bakery business, while everyone else is in lock down we are still busy making buns! It has been harder to get the orders completed as a result of social distancing restrictions… We have less staff on each production line to keep them apart but thankful for the continued orders. This same impact will be seen by the likes of Premier Foods and other food producers.
None of this is advice or recommendations.
Month Summary
Number of Holdings 37 at month end. (Up 3 since last month)
Calendar YTD -19% (Still ouch!)
Buy Trades 10 (7 Top ups & 3 New Holdings)
Sell Trades 0
Its not hard to see what I have been doing this April with 10 buy trades shown above! I didn't even realise that I had done so many buys! – this is partly why I write this diary, so that at some point I can see and review what I am doing from month to month… I also hope that someone out there can find it useful or at least entertaining!
So then Boris is better, his partner has had a baby and lock down continues… Unfortunately many many more deaths in the last month, I am sure it is devastating for the families involved. I hope you are all keeping well and staying safe?
The markets still don't really know which way to go do they? As you can see from my YTD performance I am still in the red although I have managed to claw back 19% which would be impressive if it wasn't from such a terrible starting point!
I continue to execute my strategy of slowly adding capital to the market. No one knows and I don't pretend to know when or where the bottom is but if I am buying decent businesses they should provide gains in the long run. The sale of a rental property worked out as a source of funds and only for that I would have probably been almost fully invested and unable to take advantage of the downturn. (More Luck not skill!)
As I mentioned last month I am letting my number of share holdings creep up slightly from my usual maximum of 35 up to as much as 40 holdings, subject to my being able to buy at suitable prices.
Sells…
None…
Last month I sold Ten Entertainment at 172p and having a look now I can pick it up at 152p (if I wanted) so no regrets there. Thankfully I don't own any Airlines or restaurants but I do hold Rockrose RRE, which is my only Oil & Gas company – thank goodness as the Oil price has taken a plunge to around $26 per barrel! (I did top up RRE at £15 which now looks expensive! considering I can buy them now for £9)
Added to…
I bought more of the following topping up existing holdings at better prices.
Bloomsbury Publishing @ £2.28 bought after their placing
Integrated Diagnostic Holdings @ £2.90 (approx 3.59 USD)
S & U PLC @ £16.25
AFH Financial @ £2.54
Watkin Jones @ £1.47
AB Dynamics @ £10.48
Redrow @ £3.37
Of course, on none of these I got the bottom but some have recovered nicely… they were bought early on in the month and after that I stopped all buying activity for the last few weeks of the month to see how the market would settle.
New Buys…
IG Group
Ticker: IGG
With all the volatility in recent times I had been watching the different Spread Trading companies… IG, CMC and Plus 500. IG have a pretty good track record and seem to be trading strongly for now. Not sure if this will be a long term holding but certainly one that I can see benefiting in the current climate.
Bought at £6.77 and going OK so far.
Ticker: TRCS
I have had this one on my watch list for years! I heard John McArthur speak about them at Mello last year and he was bullish at that point. They have Net Cash and great Free cash flow which is nice. Tracsis is a software company for the rail industry. I had a price alert set on Stockopedia at £6.05 back in 2019 and it was triggered on the 16th of March with the price falling to as low as £4.55! My sharepad notes remind me that this is a 1/3rd position because I may get it cheaper in the future. Bought at £6.028
I have to be honest here and say that I bought this after listening to Leon Boros speak about it his PI World webinar recently. So if you are interested in this company you should start there…
This excerpt from their website provides a useful summary of their primary activities. In a nutshell they aim to manufacture pharmaceutical grade synthetic DNA that will be used for various Gene therapies.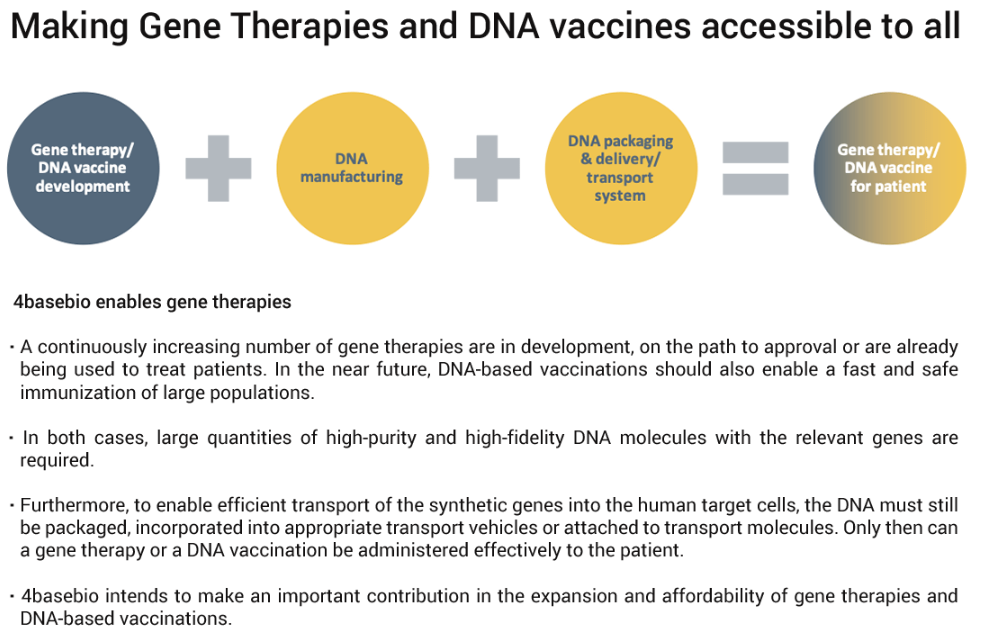 This is my first non UK listing so I don't have the Stockopedia stock reports for the German market unlocked.
Bought at Euro 1.74 (Bought through Hargreaves Lansdown)
Looking forward…
Thanks for reading and don't be afraid to comment below with your thoughts! Explore the rest of my website and have a look at my current holdings!
Quote of the month
"How many millionaires do you know who have become wealthy by investing in savings accounts? I rest my case."

– Robert G. Allen
My Portfolio Allocation