Can you believe Covid19 is still around! Early on we all thought it would be gone by now! The vaccine program roll out has been a success in general and is starting to have a positive effect on the number of cases and more importantly the number of deaths! My wife and I have our second dose next week… Both getting the Pfizer vaccine.
It has been another quiet quarter for me so hence the prompt summary as there is not much to summarise! I have been busy at work too – this also keeps me from overtrading because I don't get as much time to meddle!
Summary
My YTD performance has been good with a return at the 31st of July 2021 of 30.9% so needless to say I am very happy with that! Lets hope I can hold onto these gains until the year end and maybe even increase them!
In general I have been sitting on my hands and monitoring progress again. This meant that only 8 Trades were made in this 4 month period.
Trades
Sell Trades
09/04/2021 SELL Novacyt SA What a rollercoaster ride this was, after being up 100%+ at one point to sell on a profit warning was a disappointment to say the least!
LOSS 9.4%
Profit Warning -disputed contract -uncertain future bye thanks for the learning experience should have sold half at +100

My transaction note for Novacyt sale!
05/05/2021 SELL Sylvania Platinum Ltd – Selling some of corporate account holding to reduce oversized holding (since I bought more in SIPP at 114p in Q1) sold at 130p
I still have a small holding in SLP in this account with the main holding remaining in the SIPP. So when I see a suitable opportunity I will sell the remaining here.
GAIN 144%
28/06/2021 SELL AFH Financial Group PLC – This takeover was announced in Q1 but it has taken until now for the deal to complete and funds to come in. These funds were withdrawn to complete a property purchase.
GAIN 41.5%
Buy Trades
08/04/2021 BUY Jubilee Metals Group PLC This company was brought to my attention in one of the Stockopedia stock slams it is held by Mark Slater and is more diverse than SLP in that it is starting copper production. Bought as additional commodity exposure and to diversify away from SLP a bit. Plan – Long term hold.
07/05/2021 BUY Solid State PLC Adding here – have been waiting to add as the recent trading update was positive ahead of the recently upgraded consensus forecasts.
07/05/2021 BUY Jubilee Metals Group PLC Adding more on continued positive outlook.
21/05/21 BUY Homeserve PLC This could be a mistake but adding at 946p on weakness looks like value here as long as US strength continues
28/07/2021 BUY Tracsis PLC -New contract RNS this week with ahead of expectations note.
As a result of this large enterprise licence win, ongoing growth in Rail Technology & Services and Data Analytics/GIS and a post Covid recovery in business activity levels in our Traffic Data and Events business units, we are now expecting full year EBITDA for the Group to exceed market expectations.
This period, dividends were received from SAFE, SLP, RDW, FNTL, ABDP, KETL, RWA, RCH, BLV, WJG, SUS, TAM, IDHC
Takeovers
As mentioned above AFH Financial were taken over at 480p completed on the 28th of June 2021.
SUMO has received a bid approach from TenCent see below… I bought SUMO to replace CDM which was taken over, I can't complain as I bought at 291p before Christmas so up 65% at current price of 484p – the price is sitting lower than the bid price of 513p by almost 30p! So if you were sure the deal would go through then you could make 6% if happy to wait. Some institutions are selling so maybe they see a challenge coming that may cause the deal to fall through. Competition authorities or Chinese tensions could get in the way. Meanwhile I may start looking for another gaming company to back.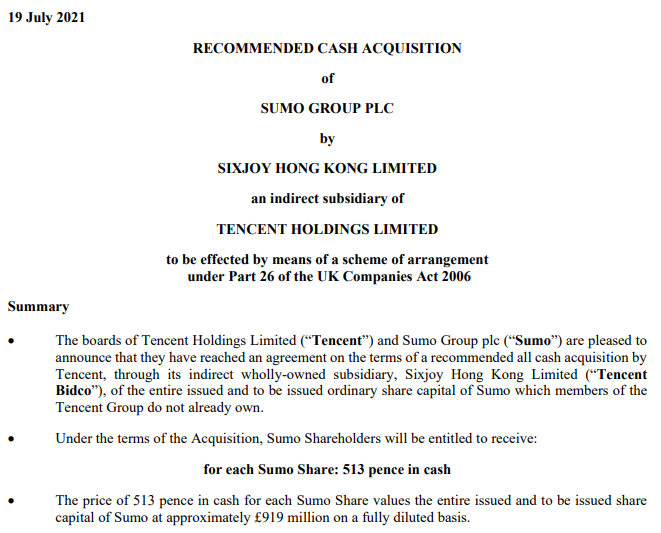 My Top ten Holdings
This is my top ten holdings and should reflect the companies that I have most confidence in.
Top Ten as at 31st of July 2021
For my full list of holdings go to my current holdings page.
Reach is really pushing ahead and has moved from position 5 up to position 2 in my portfolio!
Sylvania Platinum has softened a bit sitting at around 106p. It is 8.7% of my portfolio so my diversification is working. This is demonstrated by the gains despite my largest holding falling back.
An interesting point to note is that my top 10 holdings account for almost 60% of my portfolio they are doing the heavy lifting! The bottom 10 holdings equate to 9% so I could probably get rid of them without much performance impact.
Plan for Q3
Quarter 1 and 2 were all about holding firm and moving some funds between accounts to be more tax efficient etc with very little trading.
I did manage to have my SSAS approved finally after waiting for 16 weeks! HMRC are like many businesses held back and working from home so maybe not as productive as they should be! Now that I have the SSAS up and running I can start to look for a broker that will allow a SSAS account to trade with them. One of you readers had mentioned a possible broker last time so I will double back and have a look at that response thanks!
In Quarter 3 I will look to hold onto my gains through the remaining summer months. Lets hope that COVID or any other spanners stay clear of my portfolio.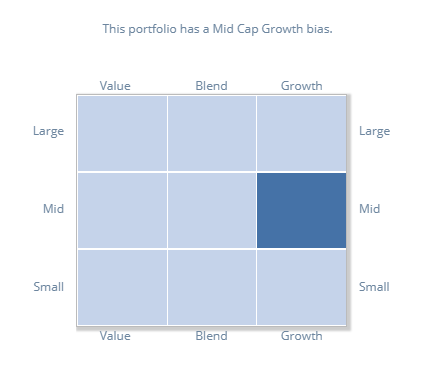 Hope this quick summary has been of interest – check out my full list of holdings and subscribe to my website so that you will receive a notification to your email when I post something new.
It would be great to hear your opinions so drop a comment below – Thanks
Investor John